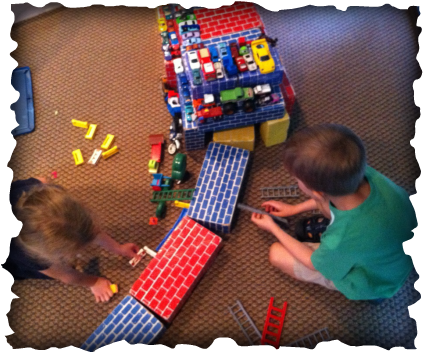 Play is often referred to as the "work of children." It offers a child a unique opportunity to explore and learn. Just as your child grows, when given the opportunity, imaginary play, in particular, grows richer and deeper, while building skills that form a foundation for more organized thinking, for the tasks we do in school and as adults. Play creatively fosters abstract thinking, the ability to take another's perspective and to be more flexible in one's own thinking. In my world there is no such thing as "just play"... setting aside time, for the creative interactions of imaginary play is an essential component of supporting early childhood development.


---
SERVICES
I offer services to children with developmental challenges, and to their families incorporating the DIR model developed by Stanley Greenspan, M.D. and Serena Wieder, Ph.D. The DIR model is a comprehensive assessment and intervention program that combines an understanding of:
· Your child's developmental level.
· Your child's most important relationships.
· Your child's individual sensory strengths, challenges and needs.
Individualized services include:
Direct one-one floortime intervention with your child.... home visits and/or office.
Modeling and coaching parents and home-program participants in play-based floortime sessions that are based on a shared understanding of a child's sensory profile and the importance of understanding co-regulation and the role it plays in our interactions.

Coaching for Successful Playdates: planning, supporting, and effective follow-up to best support your child's developing friendships through successful warm and meaningful peer relationships.

Collaboration/consultation with other professionals or paraprofessionals involved in your child's life, such as psychologists, educators, occupational therapists (OT), speech/language therapists (SLT/SLP), recreational therapists, and other floortime players.

Intentional-parenting consults: designed to provide a deeper understanding of your own overall parenting strengths and challenges and how that impacts your understanding of your child's developmental profile.
Assistance forming alliances with your child's school. Are you a fire-fighter reacting to what your child brings to the demands of each day, or responding from a calmer, more reflective parenting posture. Are you supporting and cultivating what you really want for your child both now and in the long run?

School observations both classroom and playground.

Teacher support.

Trains facilitators for assistance in mainstream environments.

Thinking Socially Groups. Play-based, reflective thinking groups. These groups utilize the DIR Floortime principles to provide a child, a truly unique opportunity, to reach their highest level of engagement, thinking and interaction with their peers through play, combined with regulation and reflective thinking practices.